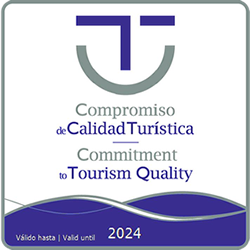 With nearly 10 years of commercial experience in the bicycle rental, repair and purchasing sector, DUEDADERBY S.L. (The Easy Way) offers all its clients a passion for health and cycling, along with a wide range of services which allow tourists to fully enjoy the city of Valencia in the most sustainable way possible.
This year, after a lot of work and dedication, we have obtained the Tourism Quality Certificate. The distinctive "Tourism Quality Commitment" is the support that accredits compliance with the requirements established in the methodology and recognizes the effort and commitment to quality and continuous improvement, while distinguishing our tourist services from the competition.

Our philosophy is to work daily to offer a product of excellent quality, classic, as well as current and innovative for all types of routes, profiles and needs, while at the same time complying with road safety regulations.
To achieve this we have surrounded ourselves with a great team of workers who are trained according to a philosophy of respect for the environment and for the different cultures and languages of the visitors who come to Valencia.
THE EASY WAY has always had a great consideration for the richness provided by the variety of traits, cultures and sexual orientation.
Our staff is fluent in at least 3 languages and thus are able to provide outstanding customer service.
In the facilities of The Easy Way, located in Valencia, are our central offices, warehouse and production center; in addition to a showroom where our customers can see and check all characteristics, technical or aesthetic detail of our products.
Valencia is a "bike-friendly" city, ideal for getting around by pedaling, thanks to its size, its flat terrain and its historic center where motor vehicles are limited to 30 kilometers per hour, or are even prohibited.
Valencia belongs to the Network of Cities for Bicycles. It has more than 190 kilometers of bike lanes and the ever popular Turia Gardens which cross the entire city and allow you to enjoy your bike ride without rushing while at the same time enjoying a mild climate all year around.
The Easy Way is a company that only offers sustainable mobility and for that it has been recognized by the Valencia City Council, the Valencia Tourism Agency, the Chamber of Commerce, the Valencia Provincial Council and Active Tourism. We have also participated in numerous national and international tourism fairs in the last 5 years.
Below you can access our Sustainability Report to obtain all the complete information: Sustainability Report.